Padmashri Gudecha Brother's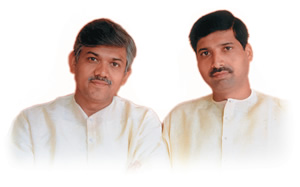 Umakant and Ramakant Gundecha are the leading exponents of the Dhrupad style of music. They are among the most active performers in Indian and international circuits.They were conferred "Padmashri" in 2012 by the Govt. of India for their contribution in the field of Dhrupad and Indian Classical Music.
Born in Ujjain in Central India, both were initiated into music by their parents. Gundecha Brothers received conventional university education and learned the Dhrupad vocal art under the renowned Dhrupad vocalist Ustad Zia Fariduddin Dagar and also with Ustad Zia Mohiuddin Dagar (the distinguished performer of Rudra Veena) under guru shishya paramapara in Dhrupad Kendra Bhopal.
The Gundecha Brothers have sung great Hindi poetry by Tulsidas, Kabir, Padmakar, Nirala in Dhrupad style . They have recorded about 50 cassettes and CDs by H.M.V, Music Today, Rhythm House, Times Music, Sony, Senseworld Music, Sundaram Records, IPPNW Concerts Berlin, Navras and Audio Rec London. They have also sung for many television channels in India and have been broadcasted on British, U.S., German and French, Japan and Australian Radio as well. As well as being an integral part of all of India's prestigious music festivals, the Brothers have also performed and conducted workshops at many important international music festivals and institutions in about 25 countries in Europe, U.S.A, Australia, Japan, Egypt, Singapore, Bangladesh, U.A.E and Hongkong.
They have received M.P. Govt. Scholarship from 1981 to 1985, National Fellowship from 1987 to 89, Ustad Allauddin Khan Fellowship in 1993, Sanskriti Award in 1994 and Kumar Gandharva Award in 1998 by Govt. of Madhaya Pradesh and Dagar Gharana Award by Mewar Foundation in 2001. Rajat Kamal – National Film Award for the Best Music Direction ( 2006), Puttaraj Gawai Award 2010 from Puttaraj Gawai Pratishthan, Dharwad.